by Heather Hill
Art by Thom Cummins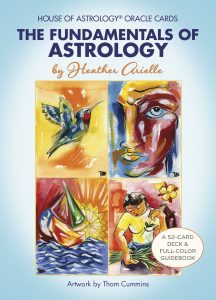 Manifest your heart's desire with these 52 beautifully illustrated Astrology Oracle Cards. Each card captures the nuance and duality inherent in each zodiac sign, planet, and house. As you become aware of your full astrological potential, areas that are out of balance will be illuminated.
Pioneering Design
This groundbreaking oracle deck is one of a kind. Its pioneering design allows for the inclusion of Reversed Messages right on the cards themselves. The detailed, full-color Guidebook, that accompanies each deck, will give you the specific tools you need to strengthen your connection to your ethereal environment and make the most of your astrological energy.
Full-size, Full-color Guidebook
A detailed, in-depth, full-color Guidebook accompanies this pioneering deck, giving you the specific tools you need to bring equilibrium back into your life and help you make the most of your astrological energy. These cards are easy to use, will give you accurate readings, and will teach you the fundamentals of astrology so you can transform your life.
The cards may also be used as flash cards in conjunction with the Guidebook to learn the fundamentals of astrology.
Boxed Kit (5″ x 7″) includes: 
52-card Oracle Deck (3.5×5, 104 messages)
300-page, full-color Guidebook (5×7)
Cards: 
12 Astrological Signs
11 Planets
12 Houses
4 Angles
3 Aspects
4 Elements
3 Modalities
1 Mercury Retrograde
1 Venus Retrograde
1 Mars Retrograde
Product Information
Description: Boxed kit (5×7) includes 52-card deck (104 messages) and 300-page, full-color Guidebook
Size: 52 cards, 3.5 x 5; Guidebook, 5 x 7; Box, 7.4 x 5.5 x 1.8 inches
ISBN-13: 978-0996860062
MSRP: US $34.95
Available from Amazon, $34.95. Amazon Prime members receive free shipping!
BUY NOW
Retailers
Call 720-432-7857 to inquire about Wholesale Pricing and to place an order.
The Fundamentals of Astrology oracle card set is also available from New Leaf/Lotus Light.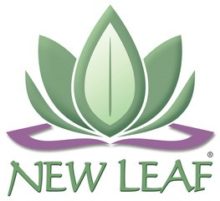 About the Author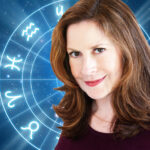 Heather Arielle is the founder and CEO of Arielle's Astrology. She offers Astrology Readings, Astrology Counseling, Classes and Workshops. Her readings focus on personal, practical, and powerful ways astrology can improve your daily life. Heather Arielle's radio show "Through the Lens of Astrology" airs every Wednesday at 5 PM Eastern Time on Beacon of Light Radio. She is available for Virtual Book Festivals, interviews, and online workshops. Her astrology workshops include Unmasking Your AstroFace, MagicalMoon, and Retrogrades Reimagined.

Contact Carolyn Oakley at Luminous Moon Press using our online Contact Form to schedule a virtual author reading or workshop.