Silver IPPY Award Winner for Aging/Death & Dying
by Bernice H. Hill, Ph.D.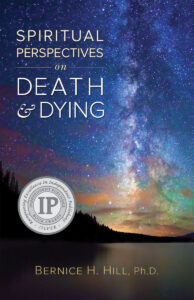 In Spiritual Perspectives on Death & Dying, the author gathers basic insights from five major sources: C. G. Jung, the LSD research of Stanislav Grof, the Hindu and Tibetan Buddhist traditions and the writings of Alice Bailey. The sequence of events of the dying process, the fundamental journey of the soul and the thoughtful advice from these sources are reviewed. What unfolds is a vista of challenge and hope.
"This wonderful book is a must read for anyone who ponders the meaning of life and mortality, and who is interested in helpful information from ancient and modern sources."
"Dr. Hill provides a clear, concise and sometimes personal guide to the spiritual challenges and gifts of our human condition."
"A lovely little book with succinct and clearly written summaries of the world's major spiritual traditions addressing the end of life."
About the Author
Bernice H. Hill, Ph.D. is a Jungian Analyst, in private practice for over thirty years in Boulder Colorado. She is a member of the International Association for Analytic Psychology and Senior Training Analyst with the C.G. Jung Institute of Colorado. Bernice trained with the Inter-Regional Society of Jungian Analysts completing that program in 1990.
Over the years Bernice has made numerous presentations on Jungian topics to Friends of Jung Societies in Tucson, Kansas City, Colorado Springs, Denver and Boulder. She has also conducted holotropic breath workshops at the Monroe Institute in Faber, West Virginia, and in Los Angeles. She has been involved with philanthropy conferences at MIT and Naropa University in Boulder, CO.  Her current interest is the opening of human consciousness to the awareness of its cosmic potential.
Most recently, Bernice authored two books: Spiritual Perspectives on Death and Dying (2015) and Emergence of the Cosmic Psyche: UFOs and ETs from the Perspective of Depth Psychology (2013). Visit the author online at BerniceHill.com.
Product Details
Paperback: 114 pages
Publisher: Luminous Moon Press (September 22, 2015)
Language: English
ISBN-13: 978-0996860000
Product Dimensions: 5.5 x 0.24 x 8.5 inches
MSRP: $8.98 (paperback), $2.99 (e-book)