by Ricardo González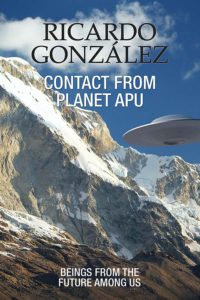 In this revealing book, Ricardo González shares his incredible experiences with the Apunians, extraterrestrial beings that come from the future with a powerful message.
"The messages of the Beings are very precise and they have the elements to verify them. There is a hopeful future, but some old structures have to be transformed. What I would say to people is not to be afraid because fear is the antithesis of love. Fear paralyzes and does not allow us to make the right decisions. We have to open our consciousness to react according to that and to create a better future for us all. Extraterrestrials may support us but they will never solve our problems. The real contact is with ourselves." –Ricardo González
"Ricardo González is among the finest researchers and experiencers of extraterrestrial contact to have emerged out of South America. He had his first physical ET contact in 1997, and has ever since established a reputation for a level-headed analysis of their activity and messages. Ricardo travels the world conducting field investigations in remote locations to better understand the extraterrestrial agenda. His primary work is to prepare humanity for open contact with what his research and experiences have confirmed is a benevolent space family. This book will greatly help the reader prepare for contact." –Michael E. Salla, M.A. Ph.D., pioneer in the development of Exopolitics
Product Details
Paperback: 180 pages
Publisher: Luminous Moon Press (June 23, 2016)
Language: English
ISBN-13: 978-0996860031
Product Dimensions: 6 x 0.4 x 9 inches
MSRP: $14.99 (paperback), $4.99 (Kindle)
About the Author
Ricardo González (Lima, 1974) is a renowned Peruvian researcher and writer about extraterrestrial life, lost civilizations and new consciousness.  He is one of the most important contactees in the world and, one of the few ones to be able to prove his link with the extraterrestrials by having invited journalists and researchers to participate in UFO sightings previously scheduled. González is a tireless traveler who has circled the world several times, investigating mysterious places like the pyramids of Egypt, the Oracle of Delphi, the Gobi Desert, the Great Wall of China, the pyramids of Mexico, the Cave of the Tayos, the secret tunnels of the Incas in Cusco, the jungles of Paititi, the Roncador mountain range, the Titicaca lake and the Atacama Desert, where he gathered extensive data.
 González has been invited to conferences and specialized congresses in over 40 countries, including Italy, Spain, France, Switzerland, Canada, USA, Mexico, Chile, Brazil, Argentina, among others. He has also been interviewed on major TV programs worldwide, including Italian Television Network (RAI), Antena 3 of  Madrid, the U.S. networks NBC Telemundo, Univision, Televisa in Mexico, or documentary channels like HBO or Discovery.
He is the author of 13 books, several of them published by Ediciones Luciernaga of the Planeta Group from Spain.
Ricardo currently lives in Argentina, and continues writing new books with the intention not to convince people of his story, but to open their minds to the possibility of something beyond their own experience.
Author Appearances
Ricardo often visits the United States and is available for appearances at conferences, meditation weekends, and other author events. Contact Carolyn Oakley at Luminous Moon Press using our online Contact Form to schedule an author visit.