by Heather Arielle
Art by Thom Cummins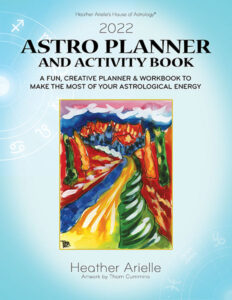 A FUN, CREATIVE 13-MONTH PLANNER & WORKBOOK TO MAKE THE MOST OF YOUR ASTROLOGICAL ENERGY AND BRING EQUILIBRIUM INTO YOUR LIFE
Develop your full potential through creative, inspirational spreads and fun, creative astrology activities. Take advantage of important transits throughout the year involving the five Personal Planets (Sun, Moon, Mercury, Venus, and Mars) and how they impact YOU personally with astrology activities.
This unique Astro Planner & Activity Book will grow with you as you develop and strengthen your knowledge and intuition through exploring your personal natal chart and doing intuitive oracle card spreads at key points every month. With advanced options for each activity, this planner & activity workbook will take you as deep as you wish to go.
New this year: We've added Elements Oracle Spreads to help you attune to the energy of each element throughout the year. We've also included this year's Mercury and Mars Retrograde Spreads to successfully maneuver the potent energies of these times. Be present with your energy between each New and Full Moon, a powerful two-week window when whatever you start or develop will grow and blossom. Be especially present with your energy during Solstices and Equinoxes, and set clear intentions so you can make the most of these new beginnings. Solstices and Equinoxes are powerful times of the year. They not only bring in the energy of a new Zodiac sign, but also of a new season; and Western Astrology is seasonal and symbolic. 
In your 2022 Planner you will find:
NEW THIS YEAR! Elements Oracle Card Spreads
Weekly Inspirational Card Draw
Solstice and Equinox Spreads
Over 40 Personal Planet Astrology Activities
Monthly New Moon Oracle Spreads
Mercury and Venus Retrograde Spreads
Two 12-Month Astrological Spread to prepare you for 2022 and 2023
To do the inspirational readings and spreads outlined in the Astro Planner, you will need a tarot or oracle deck. Although not essential, in order to have the most in-depth experience, it is recommended that the Astro Planner be used in conjunction with Heather Arielle's The Fundamentals of Astrology: A 52 Card Deck and Guidebook.
Available Soon from Amazon (Print Edition), $34.95
Digital Edition (fillable PDF) available soon.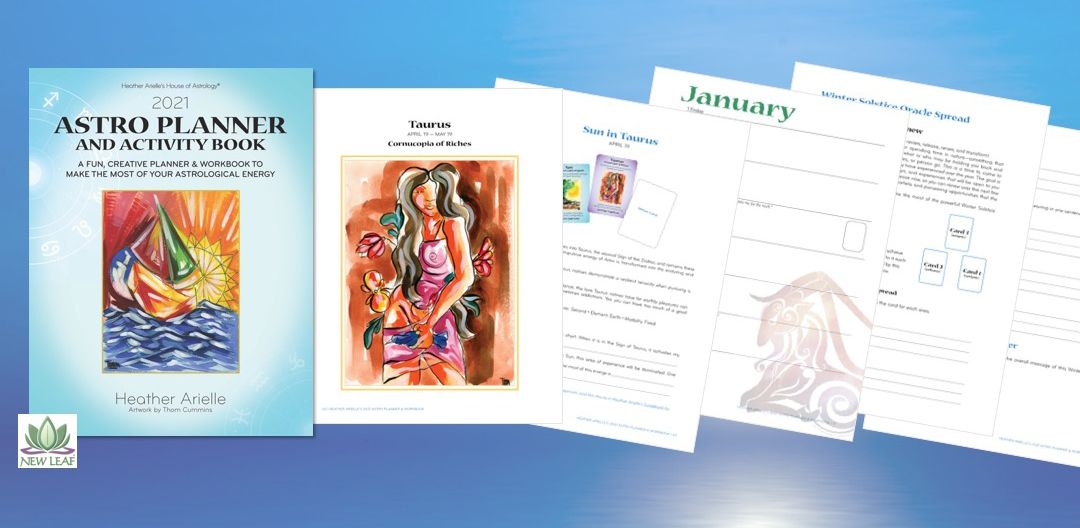 Product Information – Print Edition
Description: Trade Paperback (full-color interior)
Size: 8.5 x 11 inches, 202 pages
ISBN-13:978-1-7372637-0-8
MSRP: US $34.95
Available soon from Amazon, $34.95. Amazon Prime members receive free shipping!
Product Information – Digital Edition
Description: Fillable PDF (full-color interior)
Size: 8.5 x 11 inches, 202 pages
MSRP: US $19.95
Available soon
Retailers
Use our Contact Form or call 720-432-7857 to inquire about Wholesale Pricing and to place an order. The 2022 Astro Planner is also available from New Leaf.

Heather Arielle introduces the 2021 Astro Planner
Tour the Luminous Moon Virtual Booth!
About the Author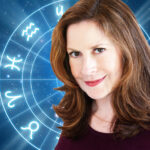 Heather Arielle is the founder and CEO of Arielle's Astrology. She offers Astrology Readings, Astrology Counseling, Classes and Workshops. Her readings focus on personal, practical, and powerful ways astrology can improve your daily life. Heather Arielle's radio show "Through the Lens of Astrology" airs every Wednesday at 5 PM Eastern Time on Beacon of Light Radio. She is available for Virtual Book Festivals, interviews, and online workshops. Her astrology workshops include Unmasking Your AstroFace, MagicalMoon, and Retrogrades Reimagined.

Contact Carolyn Oakley at Luminous Moon Press using our online Contact Form to schedule a virtual author reading or workshop.